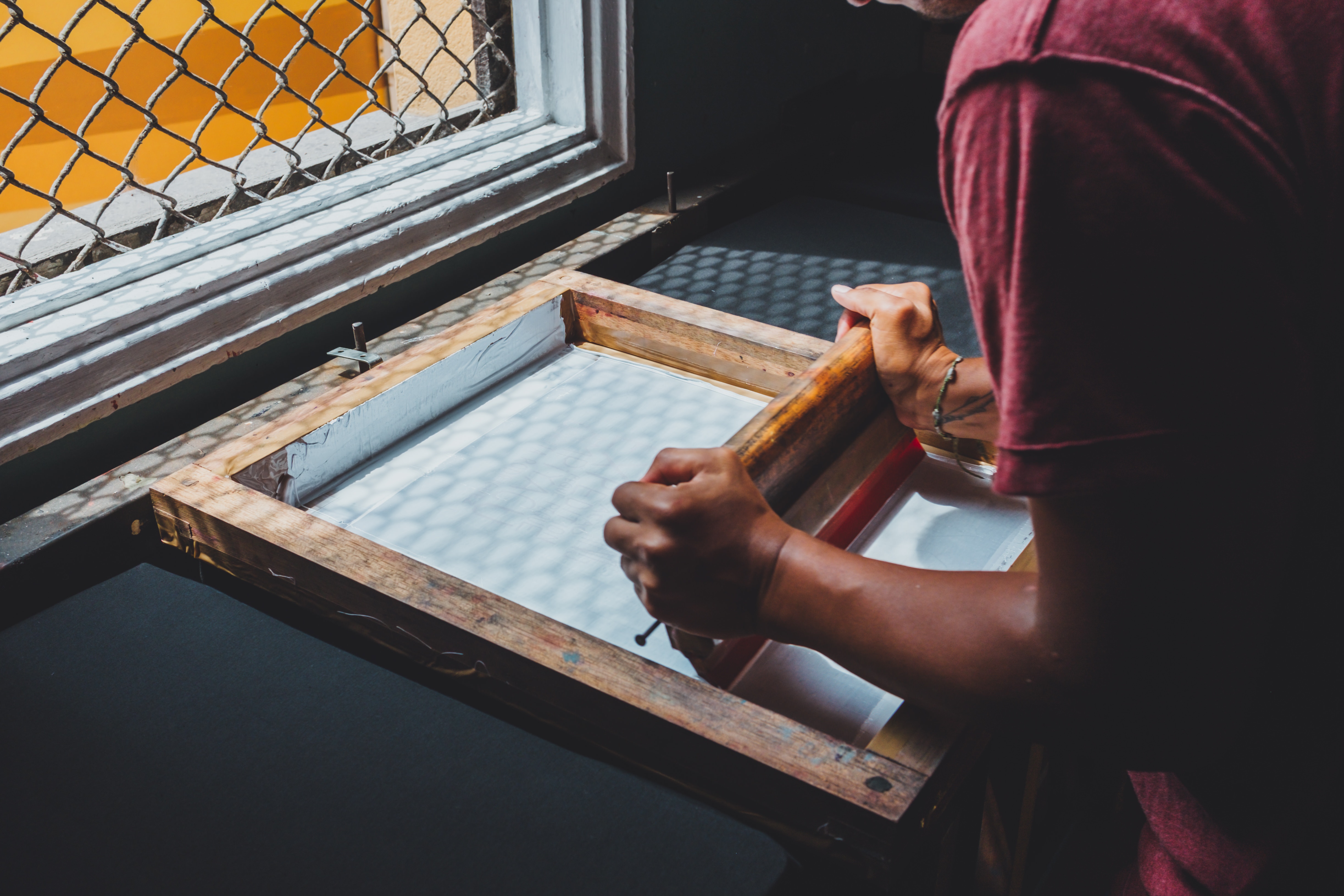 With summer wrapping up its final month, chances are at some point this season you've been to a baseball game, concert, or street festival that handed out t-shirts as promotional items. These freebies that get passed out or sometimes even shot out of t-shirt guns are both long lasting and memorable as promotional items. When t-shirts are designed and printed correctly, people love them. There are a handful of different methods used to print on t-shirts, all of which have their pros and cons. Unfortunately, there is no universal method of printing t-shirts that works for every design, so it's important to know what options you have to produce the best results. (For example, you wouldn't necessarily print a full-color image on one or two t-shirts at a time using the same method you would for 50 t-shirts at a time with a single color design.) If you're thinking about getting t-shirts for your own event or gathering this summer, here are three popular methods you may want to consider.
Screen Printing
This method involves pushing ink through a mesh screen onto a t-shirt to create a design. The thick ink used sits on top of fabric rather than being absorbed, which creates a bold design that is rich in color. Because of the labor involved in setting up the screens for each individual color, it's most cost-effective when printing large quantities of t-shirts with the same design. Each color requires a new screen that adds to the cost, so this method works best for designs with only one or two colors or in large quantities. 
Direct to Garment Printing
With direct to garment (DTG) printers, t-shirts are fed directly into the printer and printed on with inks that get absorbed into the fabric. Because of the variety of inks available in a digital printer, this method is ideal for printing designs with detailed, full-color images. Whether you create your own or use a photograph, designs can be intricate without losing detail. However, your design placement will be limited compared to other printing methods because of the size constraints of your printer.
More details can be found at https://tshirtprofessional.com/different-types-t-shirt-printing-methods-details/)
Forbothdtg and screen printing, darker colored t-shirts will be more expensive to print on versus lighter or white t-shirts.
Vinyl Heat Transfer 
This process involves cutting the design out of vinyl and using a heat press to transfer it to a t-shirt. Because you can only cut one vinyl design at a time, this method is perfect for simple, single color designs. It's a popular option for printing simple jobs (like numbers on a sports jersey). Although they are done in completely different processes, heat transfer vinyl is similar to DTG printing in that it's a better method for ordering shirts one at a time and isn't cost effective for larger quantities. Because the designs are cut from vinyl rather than printed with inks, the bold color of the vinyl won't fade the way inks do. 
If you're unsure on which method of printing will work best for your t-shirt design, Morgan Printers, Inc. can help from start to finish! Call us at (252)355-5588 or stop in today for a free 30-minute consultation.